For planned surgeries, the booking for your hospital stay will be made through the Customer Service Officer from the Specialist Clinic.
General Admission
Below is everything you need to know for General Admissions to Oceania Hospitals Pte Ltd.
Admission Confirmation
If you are required to come into the hospital for scheduled day surgery, we will contact you one business day prior to your scheduled admission to confirm timing and other related details. During this call we will also confirm your fasting details including the time of admission. Unplanned medical admissions are usually arranged via a direct referral from your Doctor.
On Arrival
On the day of your admission, ensure you arrive at the hospital at the time designated by the Admissions Officer or your Doctor. On arrival, please register at our Medical Centre so we can confirm your personal details, you can sign the hospital paperwork and admission forms and pay any out-of-pocket expenses. The hospital does not accept responsibility for security of your personal possessions, including jewelry, mobile phones, watches, money, etc. You can leave these with your relative accompanying you.
| What do I bring to the hospital? | What I don't bring to the hospital? |
| --- | --- |
| Any letters from your external Doctor | Electronic Gadgetss |
| Relevant X-rays | Beddings – Pillows/Blankets |
| All medications you are currently taking (in original packaging | Towels, Jewelry |
| Sleep wear, dressing gown, slippers or comfortable shoes | Large sums of money |
| Personal toiletries (toothbrush, toothpaste) | Other valuables |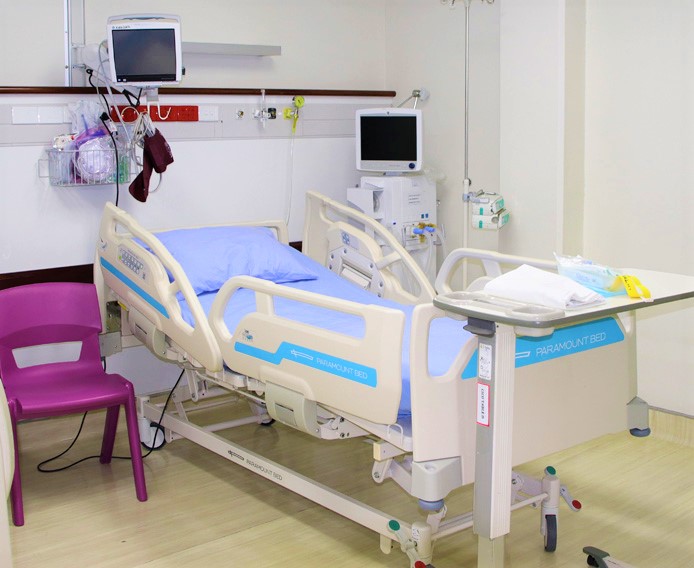 Discharge
Please check with your nurse before leaving the Ward to collect any X-rays or medication, and to confirm if you require any follow up appointments.
All patients are required to wait in the rooms until formally discharged by the Wards Revenue Officer.
A comfortable seating area is provided in the hospital foyer while you wait for your transport to take you home.
Getting Home
It's particularly important that you arrange how you'll get home from hospital as it may or may not be appropriate for you to drive yourself home. Please discuss this with the hospital staff and your Doctor prior to discharge.
Your Meals
Whilst in our care, we aim to provide patients with the best nutritive and therapeutic diets for your recovery and wellbeing. We have a full time Dietitian assisted by experienced chefs to provide patients with the best hospital meal service.
Daily meal orders for each patient are taken by the Supervisor Chef and are modified by the Dietitian/Nutritionist to suit individual patient medical needs; hence, with superior culinary knowledge, our Food & Beverage Department chefs are able to prepare and serve a diverse range of nutritionally creative and intricate meals accordingly.
A menu is provided each day, allowing you to select meals according to your tastes and dietary requirements. Your meals will include Breakfast, Morning Tea, Lunch, Afternoon Snack and Dinner. We also have a range of special diets available to meet your needs, and for those wishing to observe religious, cultural or personal principles. Please note that outside food is prohibited.
Your Room 
On Admission Day, your hospital room would have been booked a day before by the Customer Service Officer. Your Admission Guide Booklet will be given to you upon admission, detailing our room types and charges. The accommodation rates at Oceania Hospitals are determined by the type of room that a patient requests and by the classification of the patient into one of 6 clinical groups. All Room charges includes Nursing Care, Food & Beverage and Housekeeping.
Housekeeping
Our staff take pride in delivering a high standard of patient care service, through quality maintenance and hygienic cleaning of hospital wards and general areas. At Oceania Hospitals each room is cleaned daily and freshly prepared and stocked.